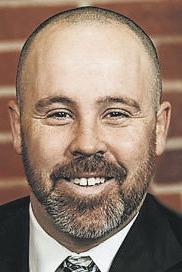 La PORTE — La Porte's most recent business developments are continuing to move forward.
Representatives from the La Porte Economic Advancement Partnership discussed the progress of several projects in the city at Monday's La Porte Rotary meeting.
"This year, specifically, has been in my 15 years here, by far, the busiest we've ever seen from an economic development standpoint," said LEAP director and Rotarian Bert Cook.
The Thomas Rose Industrial Park, which is where the majority of La Porte's industrial work occurs, has seen the construction of a 150,000-square foot spec building.
"It's almost completed at this point. I'm proud to say, long before they ever even got close to finishing construction...they leased their first 60,000 square feet of space to a company called Patrick Industries, which is a leader in the RV industry," Cook said.
Patrick Industries, said Cook, is expected to be open by the end of the year. This left the spec building with 90,000 square feet of space still available.
"I can't share a name at this point, but I'm happy to say that 90,000 square feet has leased as well," Cook said.
"Because the demand has been so great for that space, the developer has plans to double the size of the building – to build another 150,000 square feet which was part of their original design."
Cook said NewPorte Landing, the city's commercial and residential development area, is the project they get the most questions about.
Last Friday the city closed its transaction with Kensington Development, which acquired property that had been the site of the Little Tavern at Truesdell and Pine Lake avenues.
"They are beginning site work on a new Aldi grocery store that will open there next year," Cook said.
According to Cook, the Redevelopment Commission also has an agreement with a restaurant to open at the intersection of NewPorte Boulevard and North Madison Street.
"Likely it will be built in the spring," Cook said.
The Flaherty & Collins project, a mixed-use residential and retail development called The Banks, is also nearing the end of construction.
"The demand for leasing on those apartments has been so great that the developer has submitted a proposal to the city to consider doubling the size of that development. We have not moved forward with that as of yet, but it is nice for the city to be able to consider that project," Cook said.
In addition to apartments, the project will have 5,000 square feet of commercial space.
"They do not have a tenant as of yet. They have shown it quite a bit. They look for, ideally, something that adds to the living situation there," Cook said.
On Pine Lake Avenue across from Culver's, a 12-unit strip center is also getting ready to start construction.
"The way it's laid out right now, they have two end caps, which are two restaurants and two interior spaces as well. Doc's Smokehouse is one of the restaurants that have signed their letter of intent," Cook said.
Downtown La Porte is seeing a number of projects as well. Cook cited Harbor & Lake, which has redeveloped 702 Lincoln Way to hold commercial tenants on the main floor and apartments above.
"They've taken that building from what was in terrible shape and probably close to having to come down and done a magnificent job of rehabbing it and reorienting it, so it faces out on the plaza," Cook said.
Cook said one of the city's most problematic properties over the years, 701 Maple Ave., is in the process of redevelopment. The total number of units in the building will go from 46 to 38.
"We're seeing units expand within the development. They've been doing a complete gut. You've got all new HVAC, lead-based paint removal and remediation and mold remediation," Cook said.
Other buildings on the block will be demolished to accommodate parking for the development.
"You will see a complete change of that block over the course of the next year," Cook said.
The project's developer, Thomas Viere, is also developing the Low's Building on Lincoln Way. It will have three commercial units on the ground floor and 12 apartments on the second and third floors.